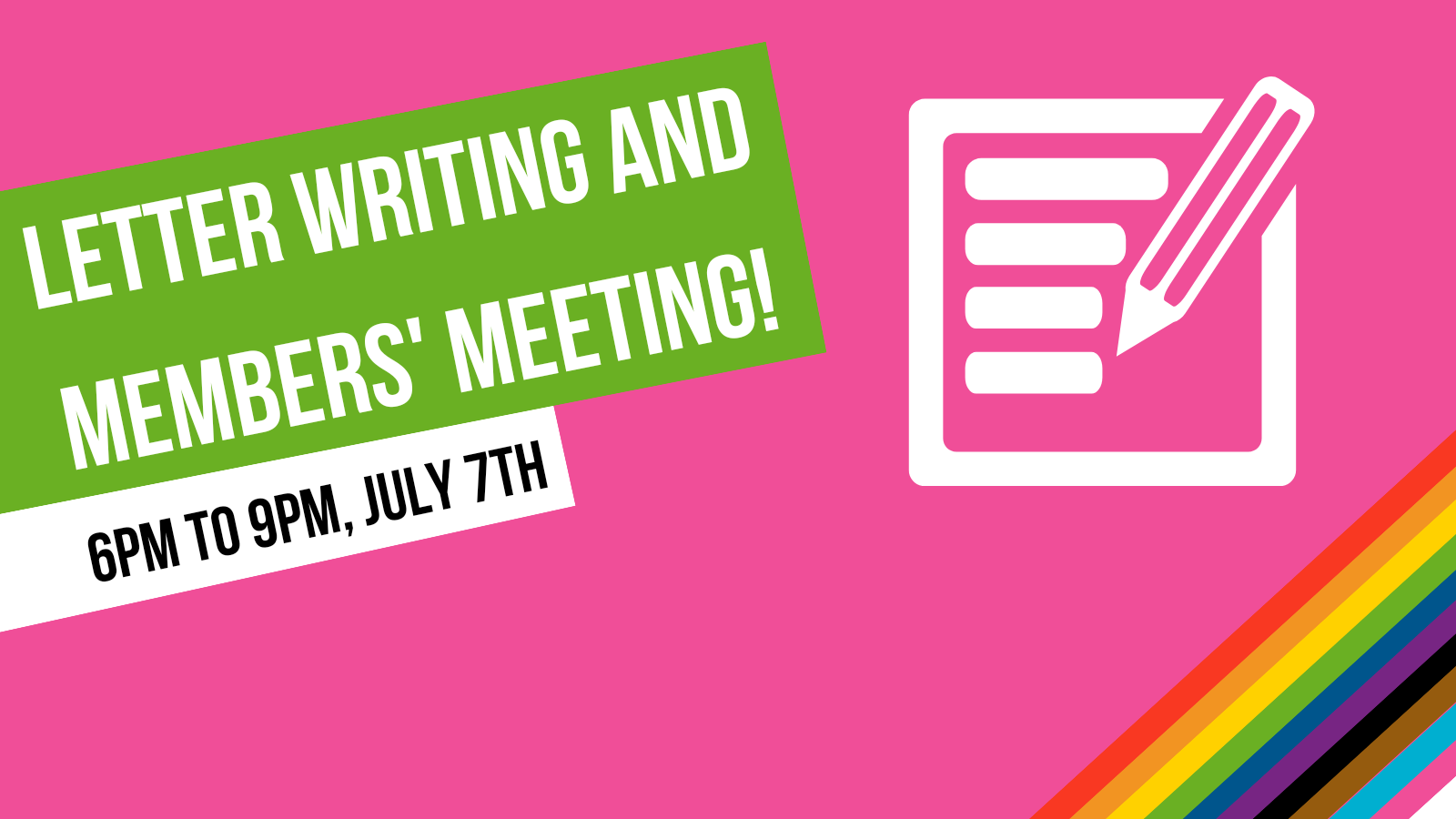 We and the rest of the LGBTIQA+ Greens Committee are inviting our members and supporters to write to their local MPs to encourage them to support a trans & ace inclusive ban on conversion therapy. Equalities minister Kemi Badenoch MP recently appeared in front of a select committee and said the ban would arrive in "due course". We've already been waiting since 2018- and the Government missed their own deadline of Spring 2022.
In the past, we've supported a petition on this ban, and we want to continue that work, ensuring our voices are clear in calling for a full trans & ace inclusive ban on conversion therapy. Writing to MPs across the country directly will enable us to continue that work and show we're not going to allow such delays on this much needed legislation.
It is clear the Government don't see this as a priority- all these delays and revisions to plans are tactics, as we've already gone through multiple consultations. It is essential that pressure remains on MP's, on all sides to push forward with a ban this Parliament.
By writing to your Member of Parliament, you can help keep the ball rolling to finally ban conversion therapy in the UK.
Every day that conversion therapy continues to be legal in this country, more LGBTIQA+ people in this country are failed by their government. Across the world, bans on these practices already exist. Writing to your MP means that they know their constituents want to keep the pressure on the Government, and reminds the Government as a community we won't stop until this ban happens.
You can find your local MP here.
And if you don't have much experience writing letters to your MP, you can find a template BELOW. We'll also be holding a social & letter writing session soon.
Details to join the members meeting to follow...
Dear [MP NAME],
I am writing to you as a constituent who wants to encourage you to continue to pressure the Government to enact a trans inclusive ban on conversion therapy. Theresa May as Prime Minister first introduced these plans in 2018, since then we have had 4 equalities ministers come and go. Now we have Kemi Badenoch, whose record on LGBTIQA+ rights are lacklustre. As such, many in the LGBTIQA+ community are concerned about how meaningful the current Government's promises are.
After a series of U-turns on the exact nature of the ban and at one point an attempt to drop the whole effort, it is now clear the Government is pursuing a distract and delay tactic rather than enact any ban. The pretence of wanting legislation to be robust is simply laughable considering this government's record on LGBTIQA+ rights.
Therefore, I write to you to encourage you to commit to pushing the Government to pick up the pace on this issue. Research indicates those who undergo conversion practices are 75% more likely to take their own lives according to the charity Mind and scientific evidence is clear. Not only that conversion therapy simply doesn't work, but that it poses a substantial risk in producing further harms such as anxiety, depression, and other problems to those who undergo conversion therapy.
NHS England and the British Psychological Study are clear that the ban on conversion therapy must be inclusive of trans people. It is unacceptable to endorse this pseudoscientific practice in any way. 
Every year many people undergo this practice, a substantial number of them coerced into such practices. Often run by religious institutions without any medical knowledge it poses a substantial risk to the LGBTIQA+ community. The Government's dithering is a passive endorsement of the harms conversion therapy are known to cause.
As a constituent I would appreciate a response detailing concrete and clear steps on how you plan to advocate for a ban on conversion therapy. 5 years is far too long, and the Government must set a date for the legislation to be announced. False promises around the "robust" nature from the equalities minister are simply unacceptable and demonstrate a type of dishonest politics.
I look forward to your response.
Kind regards,
[YOUR NAME]