LGBTIQA+ Greens' Campaigns
How to help end new HIV transmissions by 2030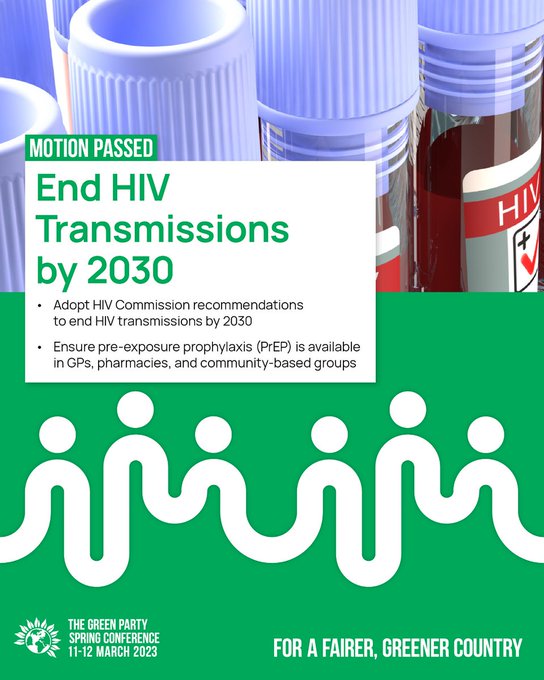 The LGBTIQA+ Greens demand that the Government takes action to end new HIV transmissions by 2030.
Part 1 of a motion to this effect was passed at Green Party of England & Wales Spring Conference 2023. A Part 2 motion is yet to be heard by conference.
End New HIV Transmissions by 2030 campaign – interview with Daniel Laycock
As part of our campaign to End New HIV Transmissions by 2030, we've interviewed Daniel Laycock, our former Treasurer!
Josh Harris asked him about the campaign, what it felt like to bring the motion to Conference, among other things.
The motions that Daniel discussed around Ending New HIV Transmissions by 2030 went to Spring Conference 2023 as motions D11 and E02! We hoped to hear both of them and pass the motions to strengthen our policies around HIV! E02 was heard and passed, but D11 was not heard in the time available and will rollover to the next conference.
INTERVIEW:
First of all, thank you so much for meeting with me today Daniel, we're really excited to have the opportunity to talk to you. I just wanted to start by asking you for your thoughts on why LGBTIQA+ history month is important, and what you've been focusing on during 2023 LGBTIQA+ history month?
● For me, History Month makes us reflect on where we've come. What has been before us,
what we've overcome and what it took for a small collection of friends to come together
and build a movement at Stonewall to stand up against brutality and fight against those
who wish for us not to exist. I'd even go on and say how our existence not only matters
but how we should feel included in society, from rights, to housing, acceptance, and
freedom. Especially on the continuous attack we are witnessing daily from the
mainstream media, those on the far right and even politicians who are supposed to
represent us.
We are in battle for our existence. Now I say battle, I don't mean with weapons, but for
minds.
History has taught us, even in today's society, on being ourselves, whether you're gay,
lesbian, bisexual, trans, non-binary, asexual, intersex, we have to work harder, fight 10
times more, and this more so true for people of colour.
But what I've been focusing on this LGBTIAQ+ History Month is things 'through the
lens'. Watching back TV programmes and films, from Cucumber, to of course
Heartstopper and learning about artists like photographers. I must admit I've watched
Heartstopper for the sixth time. I guess others have probably watched it much more than
I have, but I'm looking forward to binging on season two.
Estimates suggest there are around 106,000 people in the UK with HIV. The number of people
being diagnosed each year has fallen from the peak in 2005, what more support can be offered to
those with HIV or those who believe they may be HIV positive to ensure people are getting
tested and we're supporting the HIV community?
● I think the estimates may change over time, and we have seen a little increase with new
cases with the new opt-out testing, but the number of cases in 2021/22 compared to
2005 is a clear sign that things are changing and will continue to improve not just in
treatment but science as a whole.
However, last year new cases for heterosexual people surpassed the new diagnosis for
LGBT+ people for the first time. So, there's some investigation that needs to be done
around that. Nevertheless, more support does need to be given to anyone who is
diagnosed. When I was diagnosed in 2017, I was truly scared for a number of reasons.
It's the knee-jerk reaction to something so impactful on someone's life. I had great
support from my consultant at my local sexual health clinic and even the clinical
practitioner who gave me so much support and advice, while being open, honest and straight to the point with me. I'll forever be grateful to them. I still see my consultant
even today. Big shout to Dr Claudia!
I think support comes in different methods and knowing that it's there. There's a big gap
in knowing where to go for any kind of support. What I envision is bigger campaigns,
from local authorities, government, and organisations, as they are the ones who can make
the difference and change society's perspective that can end the stigma around this.
Without this, stigma will continue to spill over into misinformation. Though, there must
be more to investment in support. We're seeing sexual health clinics face tighter, and
tighter budgets, just like the NHS. Without investment in support, from advice, to
counselling, those who will be massively impacted are those who live with HIV then it
takes a longer time for them to come to terms with their diagnosis.
You helped bring a motion to the Green Party's conference in 2022 about ending HIV
transmissions. It received overwhelming support; can you tell us a bit about how that felt and the importance of that motion?
● Pfft. Well (with a big smile on his face), I still can't believe it really. I'm a little upset it wasn't
heard on the plenary floor at the last conference, but I'm optimistic it will be next
month.
Truth be told, this was my first ever motion to any kind of conference. There are still
areas that need to be worked out, and added, which I'm going to be working on, but the
importance of this motion is for not only that the Green Party is line in with HIV
Commission but it shows we care about this. We are the party of progressive policies,
but we're also a party that thinks about every part of society and that includes sexual
health, and those living with HIV. It is an update of our current policy, but one that
brings in different aspects where HIV affects those living with the virus.
Plus, we worked with different parts of the party and even the Terrence Higgins Trust on
the motion, so it's something I'm really proud about.
Despite significant progress from the homophobia of the 1980s misinformation around HIV
continues to be rife. How can we successfully challenge this?
● I'm going to steal a political slogan which I believe is true for this, so forgive me for
doing so (Daniel laughs). 'Education, Education, Education'. It's as simple as that really.
Things have significantly changed since Thatcher's Government in the 1990s who took
us back 20 or 30 years from that despicable campaign. That hurt our community.
We must continue to call out those who use HIV as an excuse to link their
misunderstanding with homophobia in many ways, but we can also educate people on
how it can't be passed on. During the Thatcher/Major Government, the amount of
misinformation that continued to spread even after when facts on the virus was known,
was ridiculous.
We need to see better sex education within schools, colleges, and even universities.
Education is key to work towards stamping out stigma, but it can also increase testing.
Testing should become the new normal for HIV and sexual health. That's why if my
motion is passed at our Spring Conference next month, we can start our campaign seeing motions passed on council's, that will see the opt-out testing on HIV happen in as many
NHS settings as possible. That includes GPs, pharmacies, Accident and Emergency and
much more.
Global trends in people being diagnosed with HIV showcase inequalities against the Global
South, with the head of UNAids Winnie Byanyima highlighting that these racist inequalities will prevent progress in reducing HIV transmissions ahead of 2030. What responsibility does the UK have to dismantle these inequalities?
● The United Kingdom has a responsibility to contribute to dismantling the inequalities in
global trends of HIV diagnoses that disproportionately affect the Global South. As a
developed country and a member of the international community, the UK has a role to
play in addressing global health disparities, including those related to HIV.
There are several ways in which the UK can help to reduce HIV transmissions and
support those living with the virus. One important approach is to provide financial and
technical support to countries in the Global South, particularly those with high HIV
prevalence rates. This support could include funding for prevention programs, access to
medications, and community-based services that support people living with HIV.
The UK can also take steps to address the social determinants of health that contribute
to the unequal burden of HIV in the Global South. This could involve advocating for
policies and practices that reduce poverty, promote gender equality, and improve access
to education and healthcare.
Furthermore, the UK can support research and development efforts to improve HIV
prevention and treatment options. This could include investment in new therapies,
vaccines, and diagnostic tools that are accessible and affordable for people in the Global
South.
In conclusion, the UK has a responsibility to contribute to dismantling the racist
inequalities in HIV diagnoses and transmissions that disproportionately affect the Global
South. Through financial and technical support, advocacy, and research, the UK can help
to reduce the burden of HIV and promote global health equity.
And how do you think our campaign to end HIV transmissions by 2030, fits into broader Green politics and the Green Party's message?
● Ending HIV transmissions by 2030 is a crucial goal for public health and is also aligned
with the broader Green politics and the Green Party's message. The Green Party's core
principles of social justice, sustainability, and a fairer, greener country encompass the
importance of health equity and universal access to healthcare, including HIV prevention
and treatment.
HIV prevention requires a comprehensive approach that addresses social determinants
of health, such as poverty, stigma, and discrimination, and the Green Party's message of
social justice is well-suited to these efforts. Ending HIV transmissions by 2030 also
involves prioritising the health and well-being of marginalized communities, including LGBTQ+ people, people living with HIV, and people in the Global South, which aligns
with the Green Party's commitment to equity and nonviolence.
Furthermore, ending HIV transmissions by 2030 also involves addressing environmental
factors that contribute to the spread of HIV, such as lack of access to clean water,
sanitation, and healthcare facilities. The Green Party's message of sustainability is
essential in ensuring that these environmental factors are addressed and that everyone
has access to the necessary resources to prevent and manage HIV.
In summary, ending HIV transmissions by 2030 is an essential goal that aligns with the
Green Party's core principles of social justice, sustainability, and nonviolence. The Green
Party can support this campaign by advocating for policies that promote health equity,
social and environmental sustainability, and universal access to healthcare. By doing so,
the Green Party can contribute to a world where everyone has the opportunity to live
healthy, fulfilling lives, free from the threat of HIV.
How important is representation in politics and media of those with HIV, and why?
● The representation of people living with HIV in politics and media is critical for a
number of reasons. Firstly, it helps to challenge the stigma and discrimination that
people living with HIV often face. Historically, HIV has been stigmatized, and people
living with HIV have been subjected to prejudice and discrimination. This stigma can
prevent people from seeking testing, treatment, and support, which can worsen the
health outcomes of those living with HIV. When individuals in positions of power and
influence openly and positively represent their lived experiences with HIV, they can help
to reduce the stigma and discrimination surrounding HIV and create more supportive
and inclusive environments for people living with HIV.
Secondly, representation of those with HIV in politics and media can help to raise
awareness and understanding of HIV. People living with HIV can bring important
perspectives and experiences to discussions around public health policies, research, and
funding. They can help to shift the conversation around HIV from a focus on fear and
stigma to one of support, compassion, and education. This is particularly important given
the ongoing challenges around HIV prevention and treatment, and the need for
continued public support and funding for HIV research and care.
Thirdly, people living with HIV face unique health and social challenges, including access
to healthcare, employment, and social support. By having individuals with HIV in
positions of power and influence, their needs and experiences can be better understood
and represented in policymaking and implementation.
In conclusion, representation of people living with HIV in politics and media is crucial
for challenging stigma and discrimination, raising awareness and understanding of HIV,
and ensuring that the needs and rights of people living with HIV are not overlooked.
Fantastic, well thanks so much for joining us today and sharing your insight it's been wonderful to hear from you Daniel!
And if you want to get more involved with this campaign please be on the lookout for more upcoming campaign
events very soon.